This is an archived article and the information in the article may be outdated. Please look at the time stamp on the story to see when it was last updated.
Fire Investigators spent Saturday searching for clues as to what caused a blaze in a 25-story apartment building on the westside of Los Angeles, according to the Los Angeles Fire Department.
The LAFD was leading the investigation with assistance from the federal Bureau of Alcohol, Tobacco, Firearms and Explosives, officials said.
Five people, including a 2-year-old girl, and three firefighters were injured.
As of Saturday afternoon, the toddler remained hospitalized in critical condition, sources told KTLA 5.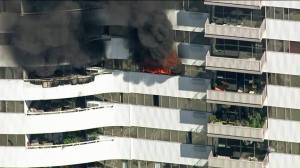 Heavy smoke and flames poured from the 11th floor of the building in the 11700 block of Wilshire Boulevard in the Brentwood area Friday at 11:43 a.m.
The three firefighters were treated for minor burns and later released, officials said.
Residents will not be allowed to return to floors seven through 11, until further notice, the Los Angeles Department of Building and Safety said Saturday. About 125 people remained displaced.
People living on the other floors were allowed to return to their units, the fire department said.
The fire was confined to a two-bedroom unit, but smoke filled the stairwells, making it difficult for residents to escape.
"Heat and smoke want to rise.  When there's no other place for it to go; eventually it's gonna go vertically," Battalion Chief Corey Rose said.