This is an archived article and the information in the article may be outdated. Please look at the time stamp on the story to see when it was last updated.
An Irvine attorney who conspired with his wife was convicted Wednesday of planting drugs in the car of an elementary school parent volunteer, leading to her arrest and false imprisonment, prosecutors said.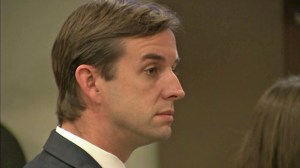 Kent Wycliffe Easter, 40, was convicted of one felony count of imprisonment by deceit, the Orange County District Attorney's Office said in a statement. The case was retried after a previous jury had been unable to reach a unanimous verdict, handing down an 11-1 decision that resulted in a mistrial.
Easter's estranged wife and co-defendant, Jill Bjorkholm Easter, 41, pleaded guilty to one count of false imprisonment in October 2013. She was sentenced to one year in jail and three years of formal probation.
In February 2011, the couple plotted to have a volunteer at their son's school arrested because they believed she was not properly supervising him, prosecutors said.
Kent Easter drove to the home of Kelli Peters and placed a bag containing Vicodin, Percocet, pot and a used marijuana pipe in a conspicuous location behind the driver's seat, according to the District Attorney's Office.
Later that day, Easter left the offices of the law firm where he was employed, went to a nearby hotel and called the Irvine Police Department. He gave a false name and phone number, then told the dispatcher that he had seen Peters driving erratically before she parked at Plaza Vista Elementary School and hid a bag of drugs in her car.
Officers arrived at the school and found the vehicle described by Easter, and spotted the bag of drugs inside.
When police contacted Peters at the campus, she consented to a search of her vehicle and insisted that the drugs were not hers.
"I went out to the car and saw what was in there; I lost my breath," Peters told KTLA in 2012. "Seriously, I thought I was on a joke show. … They tried to make me look like the worst person you could be when you're involved with a school."
With Peters' consent, investigators later searched her home and found "no evidence to support drug use" nor that she was knowingly in possession of the marijuana and pills found in her car.
In the previous trial, an attorney for Easter said his client had been duped by his wife into committing the crime.
"This is a case of a trusting husband — no more, no less — but it's also a case … about a dishonest wife," defense attorney Thomas Beinert said in an opening statement, asserting that Jill Easter had engaged in an extramarital affair.
Kent Easter faces a maximum sentence of three years in state prison. The date of his sentencing will be determined at a hearing Thursday afternoon.
When the crime occurred, he had been an active member of State Bar of California since 1998. Jill Easter was also admitted to the bar in 1998, but her license has expired.
KTLA's Melissa Pamer and Chip Yost contributed to this report.