This is an archived article and the information in the article may be outdated. Please look at the time stamp on the story to see when it was last updated.
An Irvine mountain biker was found Thursday after authorities searched for him in a remote canyon area in south Orange County, where they believed he had gone for a ride the day before.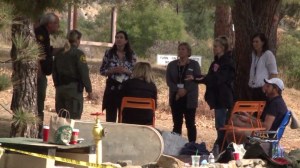 Police received a call shortly before midnight Wednesday from a woman who said she had not heard from her husband in several hours, the Irvine Police Department stated in a news release.
The woman told police that her husband, 40-year-old James Kretzschmar, may have been riding his mountain bike in the canyon areas off the Ortega Highway, according to the news release.
After a search that began about 2 a.m., authorities announced around 1:30 p.m. that Kretzschmar had been located uninjured and in good health. He was found in the Lyon Canyon area of Cleveland National Forest.
Ground teams had heard a man yelling "help" about 5 miles into the canyon from the San Juan Fire Station, where a command post had been set up for the search. He was escorted out of the canyon with his bike.
When he was found, Kretzschmar "refused to indicate to investigators whether he became lost or the reason for needing to be located by Search & Rescue personnel," an Orange County Sheriff's Department news release stated.
Kretzschmar was evaluated by paramedics and released.
Very early Thursday, authorities had found Kretzschmar's silver Mercedes-Benz sedan in the Lazy W Ranch parking lot near the highway (map).
"We believe he's out on his mountain bike," sheriff's Lt. Jeff Hallock said. "We searched for a couple hours early this morning. ... The darkness and the weather grounded some of the units, but we were back up ... at daylight and we've been searching ever since."
About 24 people searched on ground and there were helicopters searching overhead. The OCSD's search and rescue team was assisting the police, and a Los Angeles County rescue helicopter was on the way, according to tweets from authorities.
The Sheriff's Department said it recommends that those recreating in remote areas travel in groups and provide an itinerary and expected time of return to a contact not on the trip.