This is an archived article and the information in the article may be outdated. Please look at the time stamp on the story to see when it was last updated.
An Irvine man said he was asked to get off a United flight in Kauai and threatened with handcuffs after paying about $1,000 for a first class ticket back to Los Angeles earlier this month.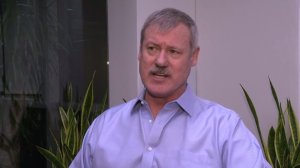 On April 1, Geoff Fearns needed to return home early, which is why he coughed up the extra cash. He had settled in his seat when he was told he needed to get off the plane.
Fearns said a United employee told him the flight was full and that a "higher-priority" first-class passenger was entitled to his seat.
Fearns told the Los Angeles Times that United employees didn't give him a choice in the matter and even told him they'd use handcuffs if they had to.
But, like the United passenger who was dragged off a flight in Chicago Monday, Fearns refused to get off.
"The gate agent had made it plain that they were planning on calling security and having me physically escorted off the plane, physically ejected from the seat," Fearns told KTLA.
Fearns says the person sitting next to him warned him to cooperate and abandon the seat because the United staff could get "pretty nasty."
The business executive who runs an investment firm finally relented.
"I'm 59 years old, I'm not going to go rolling around on the floor with some security team," Fearns said.
Eventually Fearns was reassigned a middle seat in economy class and sandwiched between an arguing married couple.
"It doesn't really matter what class you are flying, doesn't matter how much you paid for your ticket, really they have a fairly broad, almost comprehensive ability to do whatever they want," Fearns said about United.
He added that the airline hasn't given him a decent apology, but offered to pay him the difference between the economy class ticket and first class.
He hopes publicity of his story and others like it will force United to make changes.