This is an archived article and the information in the article may be outdated. Please look at the time stamp on the story to see when it was last updated.
A 44-year-old Irvine mother who had worked with children at Tustin schools was sentenced Friday to three years, four months in state prison for sexually assaulting to teen boys who came to her house to play.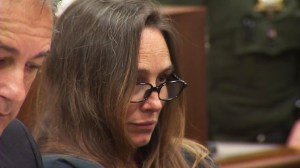 Nicole Ethel McMillen must also register as a lifetime sex offender, Judge James Rogan also ruled during a sentencing hearing at North Justice Center in Fullerton.
McMillen, a mother of three teenagers, was accused of keeping a "fun" home where her children's friends could come to watch movies and play video games, according to the Orange County District Attorney's Office.
In January and February 2012, she assaulted a 14-year-old boy repeatedly, touching his groin and orally copulating him at the home, in a gated community. After his family reported the crimes to Irvine police, investigators discovered another victim, a 16-year-old boy.
McMillen maintained a year-long sexual relationship with the second victim between 2005 and 2006, the prosecutor said at trial.
She has continued to deny the charges against her, according to the prosecutor and Rogan.
In October, McMillen was convicted by a jury of four felony counts of lewd acts upon a child and three felony counts of oral copulation of a minor under 16.
She originally faced up to six years, three months in state prison.
Deputy District Attorney Whitney Bokosky said she had wanted more prison time but was satisfied with the sentence.
McMillen had already served 296 days in jail, defense attorney Salvatore Ciulla said. He had tried to get a probation-only sentence for McMillen said.
The defendant's husband, sister and parents were in the courtroom for the sentencing, during which McMillen showed no apparent emotion.
"Very sad day for Mrs. McMillen and her family," Ciulla said.
Rogan said he would have considered probation had McMillen shown remorse.
During the time of the crimes, McMillen worked part time with kindergarten-age children at Peter's Canyon Elementary School in Tustin and as a behavioral interventionist for the Tustin Unified School District, according to the DA's office.
KTLA's Courtney Friel contributed to this article.