This is an archived article and the information in the article may be outdated. Please look at the time stamp on the story to see when it was last updated.
Police are searching for a woman who violently attacked and stole a purse from another woman in Irvine on Thursday, according to authorities.
The suspect, a white 20- to 25-year-old female with dark hair and a back tattoo, approached the victim from behind in the parking lot of a Bed Bath and Beyond in the 13000 block of Jamboree Road, Irvine police said in a news release. She tried pulling the purse off the other woman's shoulder.
In the ensuing struggle, the suspect kicked the victim multiple times on her upper body and forehead, police said. She managed to take the victim's purse and then drove away in a black two-door sedan.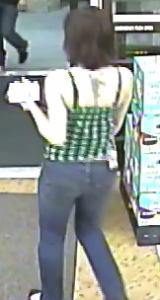 The victim's credit cards were then used at Rite Aid locations in Costa Mesa and Fountain Valley, according to police. Surveillance cameras at one store captured the suspected robber using the victim's credit cards.
The suspect is also described by police as about 5 feet two inches tall and weighing about 110 to 115 pounds.
Those who have information on the case can contact Detective Keith Herter at 949-724-7183.