This is an archived article and the information in the article may be outdated. Please look at the time stamp on the story to see when it was last updated.
Three college students who were stabbed to death were identified Sunday, two days after their alleged attacker went on a shooting spree in Isla Vista after brutally killing them.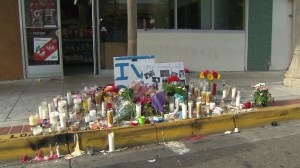 Cheng Yuan Hong, 20, George Chen, 19, and Weihan Wang, 20, were all students at the University of California, Santa Barbara whose bodies were found with multiple stab wounds in 22-year-old Elliot Rodger's apartment Friday night, according to a Santa Barbara County Sheriff's Office news release.
Hong and Chen lived in the apartment, located in the 6500 block of Seville Road (map). Investigators were trying to determine if Wang also lived at the apartment.
Rodger was believed to have killed the three men before going on a rampage spanning multiple blocks in the college community.
"The three male victims were apparently repeatedly stabbed with sharp objects. It was a pretty horrific crime scene," Santa Barbara County Sheriff and Coroner Bill Brown said Saturday.
Three other UCSB students were shot and killed Friday night; identified as Veronika Weiss, Katie Cooper and Christopher Michael-Martinez. 
Hong and Chen were from San Jose and Wang from Fremont, Calif., the news release stated.
Chen and Wang were juniors who studied engineering, UCSB Chancellor Henry Yang stated in a news release.
"Our sense of loss is immeasurable," Yang said. "We are offering our full support to their families, and our thoughts and prayers are with them. In the coming days we will also explore with the families how we may best honor their memories."
The UC Santa Barbara Community Fund was established to memorialize the lasting impact and contributions to the community, Yang said.
Rodger placed one of his roommates under citizen's arrest after the roommate allegedly stole three candles in January 2014, Brown said.
The roommate was charged with petty theft. Brown did not say whether this roommate was a victim of Friday's massacre.
The January incident was one of three run-ins with law enforcement Rodger had.
Thirteen people were injured Friday night, nine of them were UCSB students, Yang stated. Three of the injured students remained hospitalized as of Sunday night.
"We fervently wish all the injured a full recovery," Yang said.
Rodger died Friday night from an apparent self-inflicted gunshot wound to the head.