This is an archived article and the information in the article may be outdated. Please look at the time stamp on the story to see when it was last updated.
A Santa Barbara City College student who was nearly shot by alleged gunman Elliot Rodger during a violent rampage last week visited the scene of the shooting Monday where she recounted her harrowing ordeal.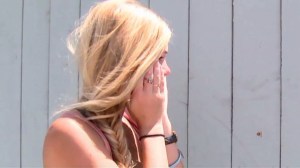 "This was the one that I felt," Sierra Swartz said, pointing to a bullet hole that pierced a wooden fence. "I'm almost positive that I felt this one."
Swartz, 18, was walking home Friday night around 9:30 p.m. when she was approached by the suspect, identified by the Santa Barbara County Sheriff's Office as Rodger, in a black BMW.
"He did it just so nonchalantly, he smiled at me, then said something and he lifted up like this and just started shooting."
Swartz told reporters later that night she initially thought it was an Airsoft gun.
She began walking away, but then started running once she realized the gun was real. As Rodger shot at her, Swartz turned a corner and didn't stop until she was safely inside the first open door that she saw.
"I just ran inside, I just ran in the house and I said 'I just got shot at, I just got shot at. Please let me just hang out here for a second,'" she said.
Ryan Gerard and two of his friends were sitting on a couch when Swartz and an older homeless man came in seeking shelter.
"She was crying, saying 'he has a gun, he has a gun' and ran right into our house," said Gerard, who hasn't slept at the home since Friday night.
A bullet was later found lodged in the side of the house.
Six people were killed during Friday's night shooting spree in the seaside college town, including three people who had been stabbed to death in Rodger's apartment, according to the Sheriff's Office. Thirteen others were injured.
Rodger, 22, died of an apparent self-inflicted gunshot wound to the head after crashing his BMW, authorities said.
Swartz said she was planning to go home to San Diego as she attempted to cope with the tragedy.
KTLA's Micah Ohlman and CNN contributed to this report.