This is an archived article and the information in the article may be outdated. Please look at the time stamp on the story to see when it was last updated.
When Lucy Blanco called and said the Downey hospital where she works was on lockdown due to a possible active shooter, her husband said his life flashed before his eyes as he rushed out of work to find her Tuesday afternoon.
By about 12:15 p.m., a suspect had already been detained after reports surfaced of a possible active shooter at Kaiser Permanente Medical Center, located at 9333 Imperial Highway. Los Angeles County Sheriff's Department officials initially said shots were fired but Downey police later said detectives determined no shots were fired inside the building.
No injuries were reported, officials said, while 34-year-old Jesus Chavez was identified as the suspect and arrested. Police said he was armed and a gun was recovered from the scene.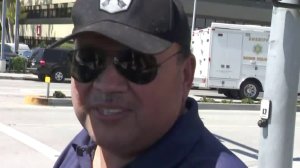 But even with Chavez in custody, the hospital lockdown had already sent many employees and patients into a panic. Just before 1 p.m., people still inside the facility were being told to stay sheltered in place.
As a mail clerk there, Blanco said she was working inside her office when a "code silver" alert came over the loud speaker. Recognizing it as the official code for a possible active shooter or hostage situation, she called her husband, Eric.
"When I spoke with her, she told me she was sitting on the floor with another co-worker and they were locked up," he said, saying he was just about to eat the lunch she had prepared for him the night before. He was working at a nearby railroad yard.
"And a lot of things went through my mind … my whole life went like this,"  he said, snapping his fingers.
Eric tried to keep her from panicking, telling her to "stay on the floor and don't do anything" as she waited for law enforcement officials to get there. He said his son, a member of the Long Beach Fire Department's Search & Rescue Team, said the same thing: "Don't do anything, stay there and the cops will be there soon."
But Eric himself was feeling "scared," he said, as his co-workers told him to stay calm just before he headed for the hospital.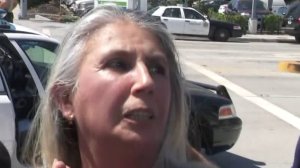 Meanwhile, Lucy waited inside the room as law enforcement officials evacuated the facility. With the date being Sept. 11, the massive New York City terror attack went through her mind as she worried about the possibilities.
"(It) has to be this day for something like this to happen," she said was one of her first thoughts.
About 2 p.m., L.A. County Sheriff's Department officials said the hospital buildings were completely cleared, with a gun recovered from the scene and the suspect arrested.
After Eric arrived at the hospital, he saw Sheriff's Department patrol vehicles surrounding the building. "When I see all the cops around, I think, 'Well she's safe now.'"
Upon seeing his wife again, he embraced her right away. He had been waiting for 45 minutes.
"It felt like $50 million," he said of that first hug. "That's all I can tell you. You know, I love this lady — we've been married many years."
Seeing similar situations unfold in other states and counties, it still felt surreal to have such an incident happen so close to home, Eric said. He and Lucy live just a mile away from the hospital.
But the feeling of seeing his wife again has been "just amazing," Eric said.
"If the cops weren't here, I probably would walk in there, knock that door down and get my wife out," he said. "I'm just happy she knew what to do and she didn't panic and she kept calm."
KTLA's Chip Yost contributed to this story.