This is an archived article and the information in the article may be outdated. Please look at the time stamp on the story to see when it was last updated.
The parents of a Chinese USC graduate student slain in a violent attempted robbery wept outside a service for their son Thursday, saying through a spokesman they had spent their life savings on a U.S. education for their only child.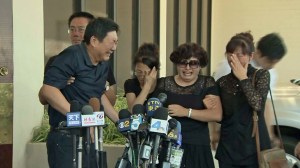 Xinran Ji's parents arrived from China Tuesday evening after an extended delay in getting their visas; they had missed a court appearance of their son's alleged killers.
On Thursday afternoon, they attended a service for Ji, who was killed July 24, at an Alhambra funeral home.
"The parents would love to see the killers prosecuted … but at least they could come here to say goodbye to their son," said Daniel Deng, an attorney helping the family.
"It was heartbreaking. I could hardly talk to them," said Deng, a criminal defense attorney who assisted the parents of two other Chinese graduate students killed near campus in 2012.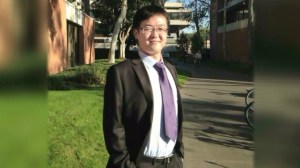 After Deng spoke to news media in front a bank of microphones at the mortuary, Ji's family emerged, sobbing uncontrollably. They stood behind Ji's father's cousin, Lisheng Liu, who spoke in Chinese and whose comments were translated into English by family friend George He.
"Xinran was an outstanding boy. He was an excellent student since elementary school," Liu said through He. "He had a chance to work in China, however he chose to come here to study."
Ji's parents are "ordinary people" who used all of their savings to support their son's academic pursuits in the U.S., Liu said. Father Songbo Ji is a teacher while mother Jinhui Du works in a hospital, he said.
RELATED LINK: In Memorium: Xinran Ji, 24
Ji, an engineering student, had stayed in Los Angeles for the summer to take classes that would help him graduate earlier, Deng said. He planned to pursue a doctor degree.
"When they hear about this terrible news, they were shocked," He said, translating Liu. "It was like heaven fell down, the sky fell down. Because he is their hope, their only hope."
Ji was found dead in his apartment on 30th Street near campus after being attacked by four people in what police described as a violent attempted robbery.
Ji was assaulted with a bat, a wrench and a knife, according to court documents. He had been returning home just after midnight from a group study session when he was attacked. He was found about six hours later by his roommate.
Four teens have been charged with murder and other alleged crimes in his death.
Ji's family wants to see them "severely" punished, Liu said.
"They come over here to see their only son in a casket," Deng said. "USC has not done enough to ensure the safety of the Chinese students."
Technology installed by USC helped catch the alleged killers, police have said. The Los Angeles Police Department planned to evaluate staffing and other measures to ensure safety in the University Park area.
The University of Southern California held a 3 p.m. Friday ceremony to commemorate Ji at Newman Hall.