This is an archived article and the information in the article may be outdated. Please look at the time stamp on the story to see when it was last updated.
A witness spoke out Wednesday against a deputy-involved shooting that left a man dead in Castaic the night before.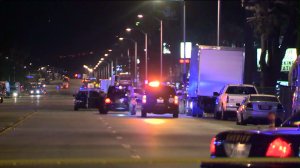 The incident began when deputies attempted to contact a man who was riding a bicycle in the 31500 block of Castaic Road at about 9 p.m., the Los Angeles County Sheriff's Department stated in a news release.
The man attempted to flee on foot and was followed by the deputies, according to the news release.
They eventually caught up with the man and a deputy-involved shooting occurred, the Sheriff's Department stated.
The man was struck in the upper torso and pronounced dead at the scene.
One witness, who wanted to be identified only as Alicia, said the man was not running from authorities, but was walking down the street after crashing his bike when they asked him to stop.
One deputy then drove to an area in front of the man, who she said was a well-known homeless man named Bill, while the other deputy followed from behind. The Sheriff's Department eventually identified him as 51-year-old William Bowers.
The deputy in front of Bowers eventually came out from behind a truck and shot him, Alicia said.
"Nothing was said or yelled, and there's lots of witnesses here who taped it and seen it all," according to Alicia, who said Bowers was unarmed and had his hands down at his side when he was shot.
"They should have used their Taser. … It was wrong," Alicia said.
A second witness, identified only as Victor, told KTLA that the victim was fleeing deputies when he was shot.
"He jumped off his bike and started running and the cop shot him," Victor said.
The Sheriff's Department said the shooting was under investigation.
Anyone with information was asked to call the Sheriff's Department at 323-890-5500.
Those who wish to remain anonymous can call Crime Stoppers at 800-222-TIPS (8477).