This is an archived article and the information in the article may be outdated. Please look at the time stamp on the story to see when it was last updated.
More tests will be conducted after dozens of students and staff members in an Orange County school district have reported mysterious rashes and bug bites in the past two weeks, officials said Thursday.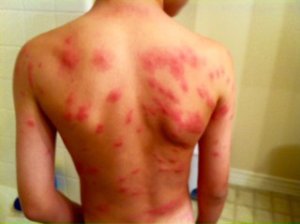 Authorities remain baffled about what is causing the symptoms that have impacted about 40 people at Lake Forest Elementary School and five other students on unspecified Saddleback Valley Unified School District campuses.
A number of people have reported rash-like skin irritation over their bodies, with some cases more severe than others.
One woman who did not wish to be identified described experiencing swelling and itching due to multiple clusters around her waist and behind her knees. A photo of a student who also experienced the symptoms showed dozens of apparent bug bites all over the child's back.
"We are in the process of trying to verify that symptoms from different areas are similar.  Once symptoms are verified as similar/relevant to symptoms at Lake Forest Elementary, OC Vector control will provide testing," Tammy Blakely, the assistant to the district
's superintendent, wrote in an email to KTLA.
The Orange County Mosquito and Vector Control District has thus far ruled out mosquitos and fleas as the cause of the irritation; a spokesman said the symptoms point to some type of smaller insect, possibly a mite or chigger.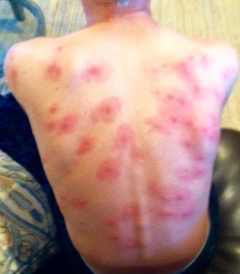 The agency is planning on performing another round of surveillance at the elementary school, though officials were unsure when exactly that would take place.
"Our consultant is preparing the materials necessary for the surveillance effort and will notify us when he is ready to deploy," a statement from OC Vector Direction of Communications Jared Dever read.
He added that other schools have not contacted them about performing surveillance around their campuses "at this time."
"It is a big mystery and it's one that we're hoping to resolve," Dever told KTLA Tuesday.
As experts work to figure out what's causing the skin issues, a patch of grass at the elementary school was blocked off with yellow tape Thursday morning, video from the scene showed. Authorities did not say why it was blocked off, but parents told KTLA it appeared children who had been playing in the grass or near trees in the area were the ones who experienced symptoms.
A number of frustrated parents expressed their anger over the school's lack of answers and transparency at a meeting Wednesday night.
During the meeting, Lake Forest City Councilman Adam Nick called the situation "unacceptable" and suggested the school should consider possibly shutting down until they have answers.
When asked in an interview Thursday morning whether there was any consideration to temporarily closing the impacted schools, Blakely responded, "We're really trying to look at how to best take one step at a time, and as more information becomes available we – everything's on the table."
Lake Forest is a city in Orange County located approximately 45 miles southeast of Los Angeles.