This is an archived article and the information in the article may be outdated. Please look at the time stamp on the story to see when it was last updated.
The World Series is driving you bonkers, and there's nothing you can do about it.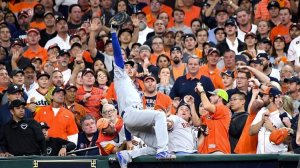 Every time you think the Dodgers have won, some wide-eyed Houston Astro swings from his fancy cleats, clangs a ball into a bleacher and dances all over your heart.
Every time you think the Dodgers have lost, Cody bellows or Corey flexes or Puig becomes Puiiiiig and suddenly you're clutching that scratchy rally towel and tugging on that faded blue T-shirt and hopping around the middle of your living room to the rattling of your Vin bobblehead.
You scream, you groan, you nearly pass out twice, then, early Monday morning in Houston, your world is turned upside down when the series shifts on a 10th-inning Astros single that scores a guy named, yes, Lakers fans, Derek Fisher.
Read the full story on LATimes.com.