This is an archived article and the information in the article may be outdated. Please look at the time stamp on the story to see when it was last updated.
The owner of an eatery in the town where the suspected Golden State Killer lived until his arrest last week says the alleged serial killer was a regular who usually sat in a booth alone and kept to himself, according to KTLA sister station KTXL in Sacramento.
"It's eerie," said Charlene Carte, owner of Charlie's Cafe on Auburn Boulevard in Citrus Heights.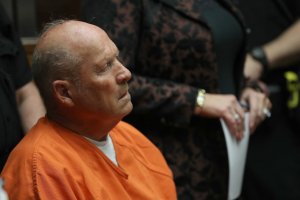 A man who has been coming in weekly, for years, is now accused of being one of California's most notorious criminals.
Joseph DeAngelo often ordered a tuna salad, sometimes with an angry outburst, Carte told KTXL.
"The second time I served him his tuna salad he threw the cheese on the table," Carte said. "And I said, 'What's wrong?' He's like, 'What are you trying to do, kill me? I can't eat cheese. I told you before.'"
Carte said she tried to cheer him up, because it seemed like he had a chip on his shoulder.
"I named him Mister Happy almost two years ago, and that's because he was such a grouch," she said.
She saw DeAngelo as being full of angst but nothing more, she said.
"He doesn't have the eyes of a killer like maybe Charles Manson, nothing like that," she told KTXL. "Just your average joe."
But a week before his arrest, DeAngelo touched her inappropriately, Carte said.
"He went to go pinch my sides," she said. "And I said, 'Hey, hey, don't touch my comfort zone.'"
Carte and her customers are still in shock that the man accused in a dozen killings and at least 50 rapes was hiding in plain sight, at their restaurant, with many of the other regulars being in law enforcement.
"We get undercover, uniformed, all day everyday and I'm sure there's times he's sat like right across from them," she said. "He was not hiding."