This is an archived article and the information in the article may be outdated. Please look at the time stamp on the story to see when it was last updated.
A Jamaican gang member is believed be responsible for a gunbattle that left four people dead at a West Adams home in October, authorities announced Thursday in naming him to the FBI's "Ten Most Wanted Fugitives" list.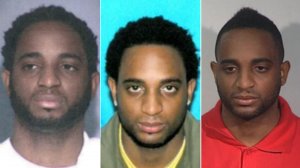 Marlon Jones has been charged with four counts of murder in the Oct. 15 shooting at a home used as an underground Caribbean restaurant in the 2900 block of Rimpau Boulevard.
Jones was at a birthday party there when he shot and killed a rival Jamaican gang member at the crowded home, the FBI said. Three others were killed and 10 wounded in the ensuing gunfire.
Jones is a member of an East Coast Jamaican gang that illegally distributes marijuana, the FBI said. A convicted felon, he has a "violent criminal history" in the U.S. and is believed to be living in the country illegally, the agency said.
He should be considered "extremely violent," armed and dangerous, said Deidre Fike, assistant director in charge of the FBI's Los Angeles Field Office, at a news conference.
The gang Jones is involved in is more of a "crew" that operates nationwide, authorities said.
"We're not talking about your garden variety street gangs," Los Angeles Police Department Lt. Mike Oppelt said. "In my estimation, there's somewhat of an organized crime component to their activity."
A reward of up to $100,000 is being offered for information leading to Jones' arrest. Tips can be left for the FBI at 888-226-8443.
The publicity provided from Jones being added to the "Ten Most Wanted" list is crucial, Fike said.
Jones' identification as a suspect comes after two men were arrested and released in October without charges in the case. Oppelt confirmed there are additional suspects, but he wouldn't say what those suspects' roles in the shooting were believed to be.
Jones is "one of the instigators," Oppelt said.
Interviews and analysis of evidence are continuing, the lieutenant said.
Jones is believed to have fled California, which he may have been visiting from New York to settle a disagreement with a rival gang, the FBI said.
A federal arrest warrant was issued for him on Oct. 31 for unlawful flight to avoid persecution.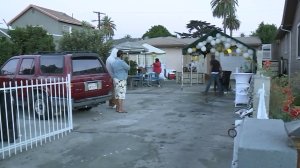 Jones' aliases have included the following: Rasheen Brantley, Floyd Evans, Floyd Evans, Jr., Anthony Howard, Philip L. Schepacarter, Anthony Winter, Anthony Wynter, and "Junior."
He has listed his birthdates with years ranging from 1970 to 1981.
Jones is black, 5 feet 9 inches to 5 feet 10 inches tall, 160 to 170 pounds, with black hair and brown eyes.
In addition to California, Jamaica and New York, Jones has ties to New Jersey, Connecticut, Tennessee and the Virgin Islands.
Jones is the 510th person to be added to the FBI's list.