This is an archived article and the information in the article may be outdated. Please look at the time stamp on the story to see when it was last updated.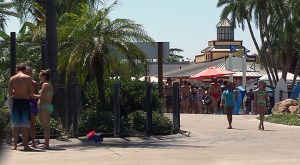 BUENA PARK, Calif. (KTLA) — A 12-year-old boy had to be rescued at Knotts Berry Farm's Surf City on Monday after getting his leg wedged under a metal partition.
Orange County Fire rescue crews were called to the park around 1:15 p.m. after receiving a report that a boy's leg was trapped, according to OCFA spokesman Steve Concialdi.
Initially, fire crews tried to use airbags to lift the wall off the boy's leg.
But the boy's leg was so swollen the airbags were ineffective, Concialdi said.
So firefighters brought in the Jaws of Life and were able to lift the wall just high enough to pull the boy's leg out.
The boy was not seriously injured and was released to his father, Concialdi said.