This is an archived article and the information in the article may be outdated. Please look at the time stamp on the story to see when it was last updated.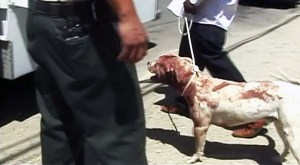 This is one of the pit bulls covered in blood.
The owner blaming this woman as deputies haul away his 2 dogs.
"I let the dog out to use the bathroom.'
The gate was open and the animals escaped.
"I heard somebody screaming help me help me."
Neighbors watched in horror as the dogs mauled a man walking along 12th Street East.
"They had him like a rag doll. His skin was hanging you could see a little bit of his rib."
Jaquim Flores used his truck to help the man get away  from the aggressive animals.
"I told him get in, got in there on the way tot he hospital, he was fainting and he fainted on me," said Jaquim Flores.
"I thought that guy was going to be killed, because he was torn up from head to toe."
"It is very  scary."
Because this isn't the first time these dogs — have attacked according to the people who live here.
"They was jumping on me."
"I told the Sheriff you better watch the dogs cause they are a danger."
The dogs lived in this yard littered with trash —  next door to a bus stop where children play.
"It isn't the dogs fault it is the owner."
The owner was arrested on a warrant unrelated to the attack. But animals were taken away to the relief of those living on the street.
"It's not fair for us to be scared, oh are they going to attack again?"
— Sara Welch, KTLA News