This is an archived article and the information in the article may be outdated. Please look at the time stamp on the story to see when it was last updated.
USC senior cornerback Josh Shaw was suspended from the football team Wednesday after admitting that he concocted a story about rescuing his nephew from drowning to explain injuries to his ankles, the university's sports spokesman said.
The story was a "complete fabrication," Shaw told USC athletic department officials Wednesday, according to a statement from Tim Tessalone, sports information director.
Shaw apologized for misleading the team, coaches and the public, according to Tessalone.
The Trojan family will accept Shaw's apology for behavior that was "out of character" for him, University of Southern California head football coach Steve Sarkisian said.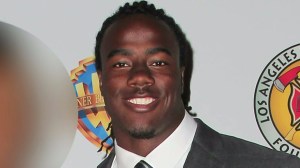 "We are extremely disappointed in Josh," Sarkisian said in the statement. "He let us all down. As I have said, nothing in his background led us to doubt him when he told us of his injuries, nor did anything after our initial vetting of his story."
Shaw has been suspended indefinitely from all team activities, according to the statement.
The player hired an attorney, Donald Etra, who issued a statement on Shaw's behalf about the Saturday incident.
"I injured myself in a fall. I made up a story about this fall that was untrue," Shaw said. "I was wrong to not tell the truth. I apologize to USC for this action on my part."
Shaw added that he was grateful for the support of USC coaches, the Athletic Department and especially Sarkisian during his college career.
Shaw was named a team captain Saturday at the Trojans' annual Salute to Troy dinner, the university had said.
On Wednesday, the university said it regretted posting the heroic rescue story on Monday. The story had been removed from the link where it was originally posted on the USC website.
USC officials began reexamining Shaw's claims Tuesday after phone calls came in disputing his account, Sarkisian said.
Shaw had told USC he was attending a family event at his cousin's home in Palmdale Saturday when he jumped from a second-floor balcony to save his nephew, who couldn't swim, from a pool below.
Shaw landed "painfully" on the concrete below, crawled into the pool and helped the boy to safety, he said.
The Trojan has been diagnosed with two high ankle sprains.
"I would do it again for whatever kid it was. It didn't have to be my nephew," Shaw said on Monday. "My ankles really hurt, but I am lucky to be surrounded by the best trainers and doctors in the world."
It was not clear exactly how Shaw actually hurt himself.
As rumors swirled about what happened to the player, Los Angeles Police Department Cmdr. Andrew Smith said on Tuesday evening that Shaw's name was mentioned in a burglary report in an incident that occurred Saturday night in the 500 block of Figueroa Street, in downtown Los Angeles.
Shaw was an acquaintance of the victim, not a person of interest or a suspect, Smith said.