This is an archived article and the information in the article may be outdated. Please look at the time stamp on the story to see when it was last updated.
A judge has ordered California agricultural officials to stop spraying pesticides on public and private property to control insects that threaten the state's $45-billion agriculture industry.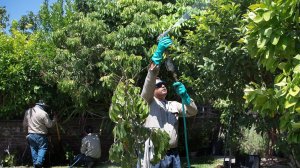 The injunction by a Sacramento County Superior Court judge, issued late last week, could throw a substantial hurdle in front of efforts by the state Department of Food and Agriculture to control dozens of crop-damaging pests such as the Asian citrus psyllid, which carries bacteria that have decimated the citrus industry in Brazil and Florida.
Farmers and other property owners will still be able to use chemical insecticides, and the state can continue to use non-chemical means of pest control. But it will have to suspend spraying pesticides on vegetation in parks, school properties and even homeowners' backyards.
The agency also will have to improve its public information process, including offering more opportunities for comment. The environmental groups that sued the California Department of Food and Agriculture documented a long-standing pattern of spraying under emergency provisions that exempted the agency from full disclosure of health risks.
Read the full story on LATimes.com.