This is an archived article and the information in the article may be outdated. Please look at the time stamp on the story to see when it was last updated.
A Los Angeles judge on Monday threw out the murder conviction of a man convicted of killing an 18-year-old in a Palmdale parking lot, ruling that new evidence seems to "undermine the entire prosecution case and point unerringly to innocence or reduced culpability."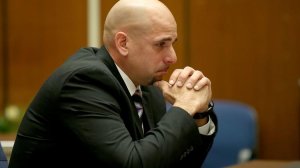 Raymond Lee Jennings served 11 years behind bars in the slaying of Michelle O'Keefe, who was shot inside her Mustang in February 2000.
Superior Court Judge William Ryan ruled that "no reasonable jury" would have decided beyond a reasonable doubt that Jennings was guilty if they'd been presented with information at trial that gang members were also in the parking lot that night.
The killing remained unsolved for several years, stoking fear in the Antelope Valley — O'Keefe's picture adorned a billboard along with the message, "Can you help catch my killer?"
Click here to read the full story on LATimes.com.