This is an archived article and the information in the article may be outdated. Please look at the time stamp on the story to see when it was last updated.
The 21-year-old driver of a sedan was killed Saturday morning when the vehicle collided with a tractor-trailer and burst into flames in Jurupa Valley, authorities said.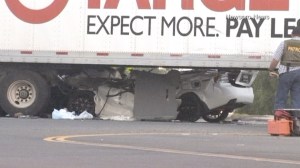 Police officers responded about 3:15 a.m. to a report of a collision at the intersection of Limonite Avenue and the northbound 15 Freeway on-ramp (map), according to a news release from the Riverside County Sheriff's Department.
California Department of Fire personnel were called to the scene, where they quickly extinguished the car fire that had broken out when the vehicle slid under the semitrailer, the release said.
The driver of the sedan, a resident of Pomona who has not been publicly identified, was pronounced dead at the scene. The uninjured truck driver, a 36-year-old Adelanto man, was released at the scene, the Sheriff's Department said.
A preliminary investigation indicated that the car was traveling west on Limonite when it collided with the tractor-trailer, which was completing a turn from the street onto the freeway.
The 18-wheeler had a green arrow when it began the turn, a witness told police.
The intersection was expected to remain closed for about eight hours while an investigation was conducted at the scene.
Anyone with information is asked to call the Jurupa Valley Police Department's Traffic Division at 951-955-2600.