This is an archived article and the information in the article may be outdated. Please look at the time stamp on the story to see when it was last updated.
An elementary school, a day care center and homes were evacuated amid a fire that destroyed multiple structures, vehicles and 2 acres of vegetation in Jurupa Valley on Tuesday.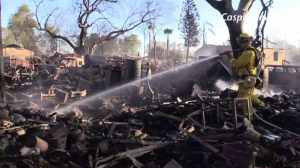 The blaze was reported at 10:36 a.m. at 5900 Mission Blvd. (map), according to an incident report from the Riverside County Fire Department, and multiple power lines were said to be down.
One firefighter was treated for non-life-threatening injuries, the department said at 4:40 p.m.
West Riverside Elementary School was evacuated and students were taken to Mission Middle School at 3600 Packard St. The Rubidoux Child Care Center was also evacuated.
About 110 firefighters responded to the fire, which came amid a red flag warning in effect for much of Southern California, including Jurupa Valley.
Eleven outbuildings, three motor homes, four residential structures and two other structures were damaged, according to a preliminary damage assessment. Forty vehicles, most of them under repair or salvaged, were also damaged.
The fire was 100 percent contained by 6:00 p.m., according to an update from the Fire Department. All evacuation orders were lifted at 6:30 p.m.
Gusty Santa Ana winds had fueled multiple other fires in the region on Tuesday. Warm and dry conditions, combined with the winds, contributed to "critical fire weather," according to federal forecasts.
Riverside County sheriff's deputies assisted with the evacuation of residences and commercial buildings, according to the incident report. An evacuation center was set up at Patriot High School, 4355 Camino Real.