This is an archived article and the information in the article may be outdated. Please look at the time stamp on the story to see when it was last updated.
The fates of two former Fullerton police officers accused in the beating death of 37-year-old Kelly Thomas were in the hands of a jury Thursday after closing arguments ended in the trial.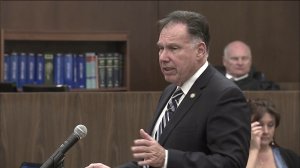 Manuel Ramos has been charged with second-degree murder and involuntary manslaughter in connection with the July 5, 2011 beating, while Jay Cicinelli has been charged with involuntary manslaughter and excessive use of force.
Ramos faces the more serious charge because prosecutors have argued that he sent the whole incident into motion when he threatened Thomas.
Orange County District Attorney Tony Rackauckas delivered his final closing arguments Thursday before the jury began deliberations.