This is an archived article and the information in the article may be outdated. Please look at the time stamp on the story to see when it was last updated.
Sitting in a wheelchair in a downtown Los Angeles courtroom Tuesday, Bryan Stow slowly shook hands with his attorney.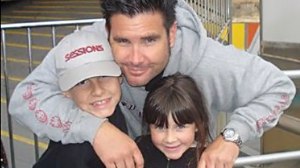 With members of his family sitting near him, Stow was in court for the first day of jury selection in a trial of a lawsuit that accuses the Los Angeles Dodgers and its former owner Frank McCourt of failing to provide proper security and lighting on the night Stow was beaten unconscious three years ago.
The lawsuit filed on behalf of the Giants fan and his two children contends that McCourt focused on funneling money into his lavish lifestyle while depleting the Dodgers of necessary funds for adequate operations.
"The lack of security and inadequate lighting presented a perfect opportunity to commit a variety of crimes. Unfortunately for Bryan Stow, this is exactly what happened," the complaint says.
Click here to read the full story on LATimes.com.