This is an archived article and the information in the article may be outdated. Please look at the time stamp on the story to see when it was last updated.
The first time Lee Baca was put on trial for obstructing an FBI investigation, lawyers for the former Los Angeles County sheriff nearly convinced a jury that the government's case was all smoke and no fire.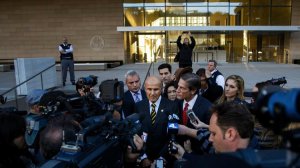 Now, with a retrial set to open this week, Baca's defense team is ready to mount another defense, but this time under even more daunting odds.
All but one of the 12 jurors in Baca's first trial in December voted to acquit him of charges alleging he was involved in a 2011 scheme carried out by subordinates to thwart a federal probe into widespread abuses and corruption by deputies working in county jails.
While it was clear that people below Baca had acted inappropriately, prosecutors failed to prove the then sheriff had played a role, jurors said afterward.
Click here to read the full story on LATimes.com.