This is an archived article and the information in the article may be outdated. Please look at the time stamp on the story to see when it was last updated.
The Los Angeles County Sheriff's Department served a search warrant Tuesday at Justin Bieber's Calabasas mansion in connection with a recent egg-throwing incident that a neighbor said caused $20,000 in damage, authorities said.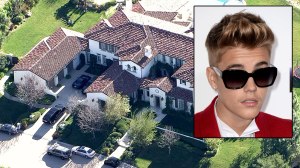 Deputies arrived at the pop star's home in the 25000 block of Prado Del Grandioso (map), around 8 a.m., aerial video showed.
Bieber was not arrested but someone else inside his home was taken into custody for a drug violation, sheriff's officials said at a news conference at its Lost Hills/Malibu Station in Calabasas.
"There was another arrest for a felony narcotics violation unrelated to this investigation," said Lt. Dave Thompson.
When asked who was arrested and why, Thompson told reporters, "I believe it was cocaine and I don't have his name."
"The cocaine, I believe, was in plain view when the deputies were looking for the evidence,"  Thompson added.
Later Tuesday, Thompson told KTLA that the drug was most likely Ecstasy or Xanax. He identified the arrested individual as 20-year-old Xavier Smith, a rapper who performs under the name "Lil Za."
A total of 12 deputies took part in the search, according to Thompson.
Several of Bieber's friends were with him inside the home when deputies arrived, Thompson told reporters.
"We collected evidence related to that crime.  Mr. Bieber was present; he was cooperative," Thompson said.
Deputies were hoping to find surveillance video from Bieber's security system that may have captured the egg-throwing incident, according to Thompson.
On Jan. 9, one of the singer's neighbors called authorities to report someone had pelted his home with eggs, the Sheriff's Department previously said in a news release.
The alleged attack caused an estimated $20,000 in damage to the neighbor's home, the Sheriff's Department said.
The case was classified as a felony because the damage amounted to more than $950, the Sheriff's Department said.
The area where the chart-topping star lives is an affluent, gated community about 30 miles from downtown Los Angeles.
The investigation into the egg-throwing case was ongoing, the Sheriff's Department said.