This is an archived article and the information in the article may be outdated. Please look at the time stamp on the story to see when it was last updated.
Two arrests have been made in the death of a missing 15-year-old girl whose body was discovered in an industrial part of Compton last week, authorities announced Wednesday.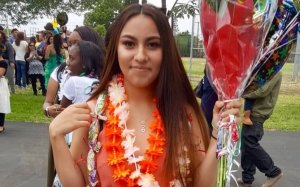 After initially saying only one juvenile was in custody in connection with Samantha Bustos' death, Los Angeles County sheriff's officials later said two 15-year-old boys have been booked on suspicion of murder in the case.
Bustos' body was found before dawn March 25 with a gunshot wound in her upper torso, deposited face-down in bushes near the Dominguez Hills Industrial Park, investigators said.
Authorities had not previously described the teen's manner of death, saying only that she was found with a "traumatic" injury.
Bustos had been missing from her home in an unincorporated area of Gardena for a few days by the time her body was discovered in the 500 block of West Victoria Street.
Her family had officially reported her missing the day before, on Sunday, but the teen hadn't been seen since going to hang out with friends Friday afternoon.
The 15-year-old stopped answering calls on her cellphone after 5 p.m. that Friday, and the device was shut off after midnight, her cousin Susan Lainez wrote in an email to KTLA.
The L.A. County coroner's office ruled her death a homicide, but nothing was revealed about how she died until Wednesday. Investigators still have not said when she was killed or how long her body had been stashed along the industrial corridor.
Over the past week, detectives have been following up on leads and conducting interviews in the case.
That led them to detain the first 15-year-old boy last Saturday, March 30. The arrest was first made public Wednesday.
Investigators believe that boy was present when Bustos was killed and "involved in the events" following her death, the news release states, without providing details on what those events entails.
That suspect was booked on suspicion of murder after confirming his involvement during interviews, detectives said.
On Tuesday, investigators learned of a second 15-year-old boy involved and went to his home in the 1200 block of South Central Avenue to detain him, officials said.
When the teen learned deputies were there, he fled to the roof of an adjacent building. Images tweeted by the Sheriff's Department SWAT team show part of the law enforcement response.
#LASD SEB SWAT operation in Compton assisting @ComptonLASD with a murder suspect who climbed onto a roof top in the 1200 Blk of Central Ave has concluded. Suspect in custody. Neighborhood safe. pic.twitter.com/0XVIto4kx6

— SEB (@SEBLASD) April 2, 2019
The second suspect eventually surrendered and was taken in for questioning. During the interview, he also implicated himself in Bustos' shooting and was subsequently booked for murder, investigators said.
The suspects' names were not being released due to their status as minors.
Detectives are continuing to investigate the case and will present their findings to the county District Attorney's Office.
Anyone with information can contact the sheriff's Homicide Bureau at 323-890-5500, or submit a tip anonymously via 800-222-8477.
KTLA's Alexandria Hernandez contributed to this story.