This is an archived article and the information in the article may be outdated. Please look at the time stamp on the story to see when it was last updated.
[protected-iframe id="0a3ff342306b16309614da8717491b7a-41641936-49434793″ info="http://cdn.tribtv.com/ake/embed.html?station=ktla&feed=2&auto=yes" frameborder="0″ width="100%" height="400″ scrolling="no"]
The final words of a 37-year-old homeless man filled the packed Orange County courtroom.
"Dad help me."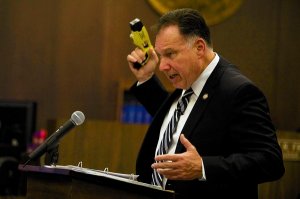 "God help me."
"Help me. Help me. Help me."
Orange County Dist. Atty. Tony Rackauckas let Kelly Thomas' voice provide an emotional undertone to his closing arguments Tuesday in a widely watched criminal case against a pair of Fullerton police officers accused of killing the homeless man in a furious beating on a summer night in 2011.
"I don't know about you," Rackauckas told jurors, "but I can't recall ever hearing such pleas. Such crying. Such begging for his life. Ever."
Click here to read the full story on LATimes.com.