This is an archived article and the information in the article may be outdated. Please look at the time stamp on the story to see when it was last updated.
Defense attorneys for two Fullerton police officers charged with beating a mentally ill homeless man to death went through six witnesses in less than an hour Thursday, many of whom recalled violent encounters with the man, Kelly Thomas.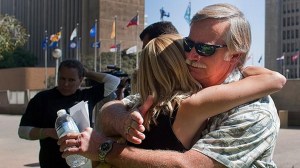 Attorneys for former officers Manuel Ramos and Jay Cicinelli, who are charged in Thomas' 2011 death, have previously said they planned to present evidence to show Thomas was not the docile victim the public has been led to believe he was after video of the beating surfaced.
The 33-minute video, which shows officers repeatedly striking Thomas with batons and also using a Taser, caused an uproar in Fullerton. Thomas, a schizophrenic homeless man who was a well-known fixture in the city, died five days after he clashed with police July 5, 2011.
Ramos is charged with second-degree murder and involuntary manslaughter, Cicinelli iwith involuntary manslaughter and excessive force.
Click here to read the full story on LATimes.com.