This is an archived article and the information in the article may be outdated. Please look at the time stamp on the story to see when it was last updated.
Dozens of people gathered Monday night at the Fullerton transit depot not far from where Kelly Thomas was beaten by police in the summer of 2011.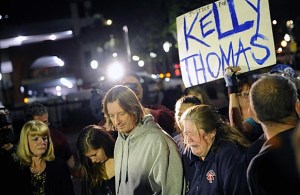 The demonstrators, some of whom chanted or carried candles, gathered just a few hours after an Orange County jury found two former Fullerton police officers not guilty in the death of the homeless man who used to sleep on benches at the transit center.
Curtis Gamble, 53, who is homeless, said many of his friends witnessed the beating. Thomas died five days later.
"They didn't get a chance to testify," Gamble said.