This is an archived article and the information in the article may be outdated. Please look at the time stamp on the story to see when it was last updated.
A mountain lion that was first spotted at John F. Kennedy High School in Granada Hills and led authorities on a short chase to a nearby home was tranquilized and apprehended Friday afternoon.
The initial sighting occurred around 7 a.m. near the campus, which is located at 11254 Gothic Ave., a school employee told KTLA.
The school was placed on lockdown following a report that the mountain lion was seen roaming the campus before noon.
After the lockdown went into effect, authorities went around the campus as they worked to confirm the reported puma sighting.
Around 12:30 p.m., armed officers could be seen with guns drawn as they searched a school patio for the mountain lion, aerial video showed.
Less than 10 minutes later, the cougar was spotted sitting on a wall near the edge of the campus, areial video from Sky5 showed.
It quickly jumped off and left the school, crossing the street in front of a police vehicle before running into the yard of a nearby home.
A nearby resident said at one point he opened his door and saw the puma just feet away.
"I closed my door, but he was ready to go inside my house," Armando Blainea said.
Nearly a dozen officers followed the animal to the house at the corner of Donmetz Street and Gothic Avenue, remaining on the street outside the property as the animal roamed around the fenced-in front yard.
At some point, a tranquilizer dart was used on the cougar; the big cat was observed to be slowly crawling and writhing around on the grass.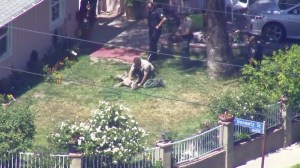 The mountain lion fell asleep after it was "safely darted," according to the California Department of Fish and Wildlife.
"He was a tough cat," wildlife Lt. J.C. Healy said. "He was fighting the drugs so we used a couple of hand injections to make sure he stays down for the transportation process."
The 3-year-old male lion was moved to the bed of a pickup truck, aerial video showed.
He was given a quick check-up Friday night before being transported back to his natural habitat in the Santa Susana Mountains, authorities said.
The state wildlife agency responded to the incident alongside the Los Angeles Police Department.
The lockdown at Kennedy High School was lifted, a spokeswoman for the Los Angeles Unified School District said around 1:30 p.m.
KTLA's Feven Kiflegiorgis and Melissa Pamer contributed to this story.