This is an archived article and the information in the article may be outdated. Please look at the time stamp on the story to see when it was last updated.
Former NFL star Keyshawn Johnson was arrested early Monday after an incident at a home in Calabasas, authorities said.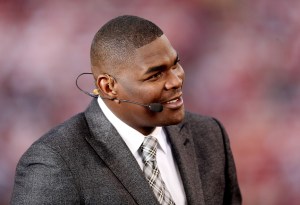 Deputies from the the Malibu/Lost Hills Station responded about 12:48 a.m. to a call regarding a possible spousal assault at a residence, the Los Angeles County Sheriff's Department said in a statement.
When the deputies arrived, they determined that Johnson and his ex-girlfriend were involved in a domestic dispute, according to the Sheriff's Department.
An investigation resulted in Johnson's arrest for alleged misdemeanor domestic battery, the statement said. He was released after posting bond at 9:15 a.m.
Johnson, a graduate of Dorsey High School and the University of Southern California, was the first pick in the 1996 NFL draft.
During his 11-year professional career, he was selected for the Pro Bowl three times and won a Super Bowl championship in 2003 as a member of the Tampa Bay Buccaneers.