This is an archived article and the information in the article may be outdated. Please look at the time stamp on the story to see when it was last updated.
A SWAT team stormed a Bellflower apartment, arrested a kidnapping suspect and freed his alleged victim following a five-hour standoff early Friday, authorities said.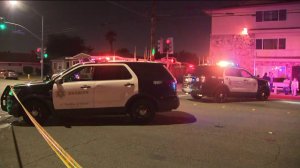 The stand-off began about 9 p.m. in the 15300 block of Bellflower Boulevard, Deputy Erin Liu of the Los Angeles County Sheriff's Department Information Bureau said.
"Upon their arrival, the deputies attempted to contact the suspect, who retrieved the victim and barricaded himself inside the bedroom," Liu said in a written statement.
A sheriff's Special Enforcement Bureau, or SWAT, team was summoned to take charge of the scene, officials said. Crisis negotiators were also called in, and nearby homes were evacuated.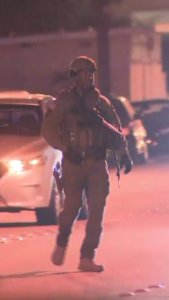 Sheriff's officials announced an end to the standoff just after 2 a.m. Neither were injured.
"SEB SWAT personnel made entry to the location, freed the victim and took the suspect into custody," the Special Enforcement Bureau said via social media.
Sheriff's officials said they could not immediately confirm reports that the suspect was a man believed to have kidnapped his elderly mother from a Reno care facility earlier this month.
In that case, Roger Hillygus, 52, was accused of taking his mother, who was under the guardianship of other family, from her assisting living home on Aug. 8, the Reno Police Department said in a written statement.
The woman, Susan Hillygus, 80, suffers from "severe dementia," according to the police statement. The woman was described as non-communicative and in need of medication which her son has no access to.
The suspect was known to have ties to both Nevada and California.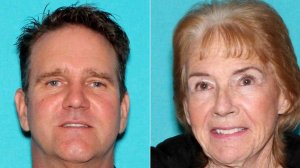 Bellflower UPDATE: #LASD SEB SWAT personnel made entry into the location, freed victim and took suspect into custody. Neighborhood safe. pic.twitter.com/bB74onxjZo

— SEB (@SEBLASD) August 16, 2019
#LASD @SEBLASD took suspect in custody. Neither the suspect or the victim was injured. #Barricaded

— LA County Sheriffs (@LASDHQ) August 16, 2019