This is an archived article and the information in the article may be outdated. Please look at the time stamp on the story to see when it was last updated.
A coastal flooding advisory was in effect for parts of California Monday as king tides were expected to continue bringing extreme surf to the area through Tuesday.
King tides occur when the earth, moon and sun are aligned and in close proximity, resulting "in maximum gravitation force on tidal cycles," according to the National Weather Service.
The high seasonal tides could bring waves as high as 20 feet to central California beaches. They were also forecast to affect the San Francisco Bay Area, according to the weather service.
In addition to higher high tides that may result in coastal flooding, the phenomenon will also bring lower low tides, which could leave some boat keels touching harbor bottoms, federal forecasters said.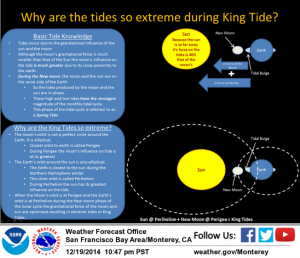 Along the Southern California coast, forecasters were warning that a combination of high astronomical tides and elevated surf had the potential to create strong rip currents and flooding at low-lying areas along beaches.
In Orange and San Diego counties, high tides of more than 7 feet could hit between 8 and 9 a.m. Monday and Tuesday morning, according to the weather service, which issued a "beach hazards statement" for the two counties.
Another west-northwest swell was forecast to arrive Wednesday, bringing with it more elevated surf and strong rip currents through Friday.
Gusty Santa Ana winds, meanwhile, were expected to blow through the region Monday night into Wednesday.
Avoid ALL coastal rocks and jetties today! High surf combined w/ 6ft King tides will cause waves to crash over them!! pic.twitter.com/fpZ4KT5Nzg

— LACoFD Lifeguards (@LACoLifeguards) December 21, 2014
More video: