This is an archived article and the information in the article may be outdated. Please look at the time stamp on the story to see when it was last updated.
Five members of the Ku Klux Klan linked to a brawl in Anaheim that resulted in three counterprotesters being stabbed and two Klansmen being "stomped on" were released because they acted in self-defense, the Anaheim Police Department said Sunday.
Twelve people were arrested and one man was being sought after the Saturday afternoon melee near Pearson Park.
Five people were released after images, including photographs and cellphone video, and witness statements corroborated their claims that they acted in self-defense, the Police Department said.
"Regardless of an individual or groups' beliefs or ideologies, they are entitled to live without the fear of physical violence and have the right, under the law, to defend themselves when attacked," a police news release stated. "Even still, the case will be presented to the Orange County District Attorney's Office for review and it will make the final determination regarding whether criminal charges will be filed."
The seven people who remained in custody allegedly beat and stomped on the Klansmen, the Associated Press reported.
The violent altercation began after about six members of the white supremacist group arrived at the park for a "walking protest" and were met by a group of about 30 counterprotesters.
The two groups then clashed, and cellphone video captured people screaming at each other while some were knocked to the ground, punched and stabbed.
Witnesses at the scene told the Los Angeles Times the point of a flagpole had been used in at least one stabbing, though they were unsure if it was with an American or Confederate flag. Police would not confirm what weapon was used.
"The regrettable incident was the result of approximately 10 to 20 individuals who came to the park with the intent of perpetrating violence," police said Sunday.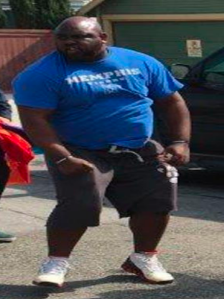 Two alleged KKK members were "stomped on the ground" by protesters and three protesters were allegedly stabbed by members of KKK, police said.
Four people were hospitalized after the incident — the three stabbing victims and one stomping victim.
All four were said to be stable as of Saturday night, hours after police initially said one stabbing victim was critically injured.
One man was being sought by police after the incident on suspicion of assault with force likely to cause great bodily injury.
Of the five KKK members who were released, four were released by Saturday night and one was released Sunday morning, Sgt. Daron Wyatt said.
They had been arrested on suspicion of assault with a deadly weapon in connection to the stabbings.
The seven protesters — including one juvenile — were under arrest on suspicion of assault with force likely to cause great bodily injury, police said.
Three people had also been arrested on suspicion of elder abuse, police said Saturday, but details on the allegations were not provided.