This is an archived article and the information in the article may be outdated. Please look at the time stamp on the story to see when it was last updated.
Nearly 100 firefighters responded as flames ripped through a burning home in Koreatown midday Friday, spreading to three other nearby homes and leaving 19 people displaced and a family dog rescued.
The fire was initially reported at 11:49 a.m. at 173 S. Ardmore Ave., where a two-story Craftsman home was well involved, the Los Angeles Fire Department said.
The blaze became a "major emergency fire" that included multiple homes, LAFD said in an update.
After a roof collapsed on one structure, firefighters were forced into "defensive mode."
By 12:15 p.m., the first home was blackened and gutted, aerial video from Sky5 showed. A second home appeared to be partially gutted as well.
Two others homes were also affected — one with moderate damage, and another with minor damage, LAFD's Margaret Stewart said.
Investigators were looking into reports that an explosion was heard at the beginning of the fire, Stewart said.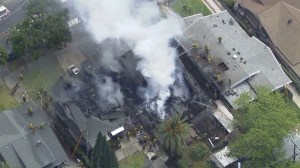 Knockdown was declared after 49 minutes, with 98 firefighters having responded.
A dog named "Brownie" was penned in a yard by a firefighter during the firefight, Stewart said. When the battle was safely over, fire Engineer Don Maisel reunited the pooch with his owner, Nancy Marin. The dog was taken to a vet and was doing well.
The Red Cross was helping 12 people who were displaced, Stewart said. Seven others who were displaced did not need Red Cross help, she said.
Arson investigators were trying to determine what caused the blaze.
The fire was in a residential area; the closest major intersection is a couple of blocks away at West Third Street and Normandie Avenue.
#LAFD Eng Don Maisel reunited 'Browny' w owner after massive multi-home fire At vet-doing well! ©matthartman & LAFD pic.twitter.com/ETe8JgX8cN

— LAFD Talk (@LAFDtalk) April 29, 2016
#Brownie being brought to owner. Quickly penned in yard by FFs during battle, then brought out once safe @LAFDwest pic.twitter.com/bdlnpPUkGX

— LAFD Talk (@LAFDtalk) April 29, 2016