This is an archived article and the information in the article may be outdated. Please look at the time stamp on the story to see when it was last updated.
A KTLA reporter and his photographer had just finished their live shot for the 11 p.m. news, covering the devastating, out-of-control Erskine Fire burning in Lake Isabella, when flames came within about 30 yards of their van.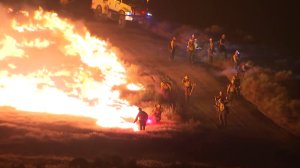 Reporter Steve Kuzj and cameraman Victor Vargas scrambled to get their equipment into the truck and flee, getting away safely.
Vargas said the pair noticed firefighters lighting backfires close by as Kuzj finished up his live report on the fire, which at that point was estimated at 5,000 acres and had burned about 80 homes and structures.
Live video on KTLA's air shortly after 11 p.m. showed a firefighter crew setting fire to brush and grass near the roadway at the end of Kuzj's live shot.
While Vargas and Kuzj worked to pack up the KTLA van, the heat began to hit them and they started to hurry. In less than a minute, the flames moved from 100 yards to 50 yards to 30 yards away, Vargas said.
"The heat became unbearable," he said. "The heat was too much that I couldn't get in the truck through the driver side."
Vargas climbed in through the passenger door and they sped away, past an apparent wall of flame.
Vargas said he assumed firefighters expected him and Kuzj to leave shortly, but didn't realize they needed a few minutes to pack up their broadcasting equipment and get out.
"You don't realize how fast a fire moves until you're breathing hot, ashy air and the panic starts to set in," Vargas said.
Kuzj said the California Highway Patrol had sent him and Vargas, along with others, to that spot where the flames approached the van.
Kuzj recorded video of the escape on his cellphone, showing flames lighting up the van's windshield.
The fire began about 4 p.m. Thursday in the Lake Isabella area and grew quickly.
In mountainous terrain and through drought-plagued dry fuel, the flames were driven by wind 11 miles in 13 hours, Kern County Fire Department Chief Brian Marshall said Friday morning.
He called it a "firefight of epic proportions."
By Friday morning, the Erskine Fire was estimated at 8,000 acres, with about 100 structures burned. Another 1,500 structures are threatened, according to the federal InciWeb page for the fire.
Three firefighters have suffered smoke inhalation injuries, the page stated.
The U.S. Forest Service, and the U.S. Bureau of Land Management and the Kern County department are working in unified command on the fire.