This is an archived article and the information in the article may be outdated. Please look at the time stamp on the story to see when it was last updated.
KTLA viewers have raised more than $1 million to provide help for the victims of Harvey, the storm that left Houston and parts of East Texas devastated in its wake.
In partnership with the Salvation Army's Southern California division, KTLA's fundraising efforts brought in $1,099,027, Tribune Broadcasting announced Thursday.
"The Salvation Army in Southern California is deeply grateful to KTLA and its loyal viewers for their incredible generosity toward our efforts to bring relief and assistance to our neighbors in Texas," said Lt. Col. Kyle Smith the Divisional Commander of the Salvation Army Southern California division. "They have provided essential resources that will soon be put to use in rebuilding lives."
Within days of Harvey's landfall in Texas on Aug. 25, Salvation Army had 42 mobile kitchens set up in the disaster zone and was providing 1,500 meals a day, along with water, clothing and blankets.
The funds raised by KTLA viewers go directly to Salvation Army response teams from across the country.
KTLA's general manager, Don Corsini, and News Director Jason Ball remarked on how giving the station's viewership is.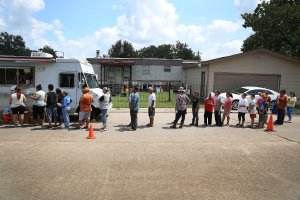 "The Los Angeles community is incredibly generous. It's gratifying when we, as local television stations, can go beyond our role to provide information, to providing actual assistance to those in need," Corsini said. "KTLA is proud to serve our viewers here."
Ball said: "It's great to know how generous our viewers are to the people of Texas and Louisiana and I am very proud of the KTLA team's efforts to assist in these communities."
KTLA held a text campaign to encourage donations and on Aug. 31 had several reporters covering Salvation Army operations in Bell.
The Lucy Pet Foundation also pledged to donate a bag of pet food for every $10 donation KTLA viewers made to the Salvation Army, up to 30,000 pounds. That limit was met, and the food was expected to go to shelters in the Houston area.