This is an archived article and the information in the article may be outdated. Please look at the time stamp on the story to see when it was last updated.
Reports of a suspicious person wearing a vest or backpack with wires coming out prompted the temporary lockdown of the Los Angeles Air Force Base in El Segundo on Tuesday.
The person was wearing a vest or backpack with wires displayed, Capt. Ryan Evanski with the El Segundo Police Department said just after 3 p.m. The individual had ammunition magazines but no firearm, Evanski said.
At about 6:15 p.m., an "all clear" was sounded over loud speakers at the base. It was not immediately known if anyone was in custody.
Police initially received a call with a report of an active shooter but found that no shots had been fired, Evanski said.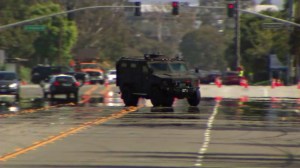 The suspicious person was spotted between Aviation Boulevard and Douglas Street in El Segundo, and traffic was stopped in the area (map).
A short statement from the base issued at about 5:15 p.m. confirmed the lockdown, saying the move was a "a safety posture that minimizes all pedestrian and vehicle traffic on base."
Vehicles were not permitted to enter the base, according to the statement.
"This is to ensure the safety of all personnel until an 'all-clear' is sounded by law enforcement officials," the statement read.
No further details were available, according to the statement.
After the all-clear was sounded on base, a spokesperson said an updated statement would be issued with additional information.
A mother whose child was on lockdown at a day care at the base said she had received a call from her husband, who works on the base.
Mary Cardena's husband had been told there was a suspicious-looking man spotted near the gym. Cardenas and her husband were not certain when they would be able to pick up their daughter.
KTLA's Rose Razeghi contributed to this article.
LAAFB is in Lockdown, a safety posture to minimize pedestrian & vehicle traffic on base. Further details will be provided when available.

— SMC (@AF_SMC) June 17, 2014
We are assisting El Segundo PD at the Air Force Base regarding a possible suspicious person on base. Air unit overhead

— Hawthorne Police (@HawthornePD) June 17, 2014