This is an archived article and the information in the article may be outdated. Please look at the time stamp on the story to see when it was last updated.
The Los Angeles Board of Education has deadlocked over rehiring its top internal investigator, effectively dismissing him unless board members reconsider before the end of the month.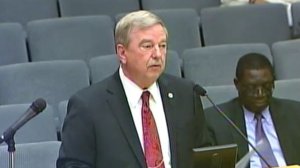 The board split evenly over rehiring Inspector General Ken Bramlett during a confidential closed-door portion of last week's board meeting. His current contract expires at the end of June.
Bramlett's departure would raise questions about the future of an office established as a watchdog over the nation's second-largest school system.
Some critics — inside and outside L.A. Unified — say his forced departure could undermine accountability efforts, including overseeing independently operated charter schools. But others say the board members who voted not to rehire him had lost confidence in Bramlett, especially in light of recent allegations that he had tolerated a hostile work environment after employees complained about his chief deputy.
Read the full story on LATimes.com.