This is an archived article and the information in the article may be outdated. Please look at the time stamp on the story to see when it was last updated.
HOLLYWOOD, Calif. (KTLA) — A new line of T-shirts featuring prescription drug names triggered outrage as well as possible legal action Thursday.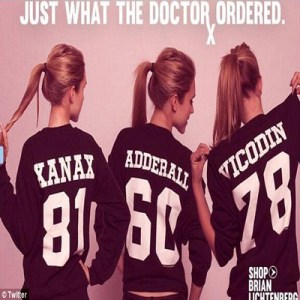 The NFL-style jerseys, designed by Brian Lichtenberg, were being sold by the popular clothing store Kitson LA.
The shirts showcase the names of the drugs Adderall, Vicodin and Xanax on the back.
The three drug manufacturers were contemplating suing the store for trademark infringement, according to TMZ.
"We had no involvement NOR do we approve of the sale of such a product using Adderall to glorify the misuse of our product," a spokesperson for Adderall told TMZ.
And a spokesperson from Abbott, the firm behind Vicodin, stated: "Prescription drug use should not be trivialized. It is a serious issue and we will be taking legal action to stop the clothing company from trying to sell such a product," TMZ reported.
Lichtenberg, the designer behind the shirts, released a statement on the company's Facebook page in which he described the shirts as "a commentary on what I see happening in our society."
"These tee's are not meant to encourage prescription drug abuse, but if they open the door to a much needed dialogue, as they seem to be doing now, then mission accomplished," Lichtenberg stated.
Reaction to Lichtenberh's statement was predominantly negative.
Courtney Taylor wrote, "I am not sure what I am more disgusted by.. this line of clothing or your insulting attempt to combat the backlash by hiding behind a tired & poorly crafted "It's art" defense."
"You are literally making money off the backs of young men and women who fall prey to the addiction potential of these drugs," according to
Natalie Costa.
And
Judy Weaver Baxter
replied, "The dialogue they've opened is about elevating these drugs to "cool" status when, in fact, they are just the opposite."