This is an archived article and the information in the article may be outdated. Please look at the time stamp on the story to see when it was last updated.
There they were, felines clinging to life — Laney, Quirky, Koko — all babies without Mama in sight, scooped into the palm of human hands to be soothed, stroked and fed around the clock.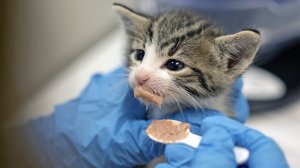 "Not everyone understands how hard it is for newborn kittens. They have to eat every two to three hours. We weigh them before and after. We make sure the conditions are just right for their nurturing," says Kara Odenbaugh, pointing to the heating pads tucked under the critters' blankets and stuffed animals — simulating Mom — adorning each kitten's crib.
Odenbaugh, who oversees the kitten nursery at Best Friends Pet Adoption Center in Mission Hills, cradled an infant weighing 177 grams, barely one-third of a pound. Laney, the size of a Twinkie, sported gray fur reminiscent of a soft sweater and struggled to keep her eyes open while sucking on bottled formula. At almost two weeks old, she and seven siblings would have no chance staying alive without the workers' vigilance.
Inside the spotless neonatal unit, these kittens are survivors of a larger battle being waged in the No-Kill Los Angeles movement. Led by Best Friends Animal Society, and partnering with local shelters, they are a passionate coalition of animal welfare groups seeking to transform L.A. into a city where no homeless pet has to die — by year's end.
Read the full story on LATimes.com.