This is an archived article and the information in the article may be outdated. Please look at the time stamp on the story to see when it was last updated.
City Atty. Mike Feuer said Friday that he would urge Los Angeles officials to consider imposing restrictions or even deny permits to hate groups seeking to rally here in order to prevent the kind of violent clashes that erupted last weekend at a white supremacist rally in Charlottesville, Va.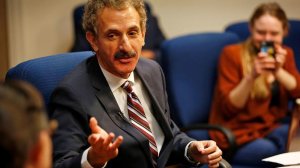 Permits for such demonstrations have not been sought in L.A. But if they were, Feuer said, he would recommend that officials look to precautions taken by other cities, such as Boston, which banned backpacks and bats at a rally planned for Saturday.
If it seemed unlikely that such violence could be prevented, Feuer said, he would "look very carefully" at turning down the request for a permit.
"Obviously, we are a nation where we value as one of the most high ideals freedom of expression. Fair enough," he said. "But even the ACLU leadership … is saying today that has its limits. When people are coming to incite violence … that's where we draw the line."
Read the full story on LATimes.com.