This is an archived article and the information in the article may be outdated. Please look at the time stamp on the story to see when it was last updated.
Faced with an uproar in his district over a temporary homeless shelter, City Council president Herb Wesson convened a rally Friday at which he urged Angelenos across the city to support "bridge" housing for those living on the streets.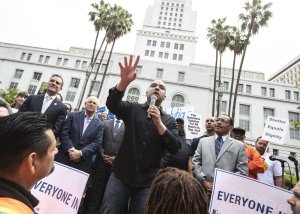 To a crowd of a couple hundred homeless advocates, service providers, labor groups and activists assembled on the City Hall lawn, Wesson called homelessness "the most important issue in the city of Los Angeles." He called the temporary shelters, to be built in each of the 15 council districts, a "bold and creative" solution.
The announcement earlier this month that the first of the shelters will be built in a central corridor of Koreatown has been met with a groundswell of opposition, with residents and business owners staging their own rallies to protest that that site was chosen without input from the community. More than 9,000 people have signed an online petition protesting the site, which opponents contend is not optimal because of its proximity to schools and businesses.
Wesson, accompanied by Mayor Eric Garcetti and five members of the City Council, said at Friday's rally that "it takes power, it takes leadership" to get the temporary housing built.
Read the full story on LATimes.com.