This is an archived article and the information in the article may be outdated. Please look at the time stamp on the story to see when it was last updated.
The Los Angeles City Council voted unanimously Wednesday to allow construction of a long-stalled Target shopping center in Hollywood to resume, nearly two years after a judge ordered work halted at the site.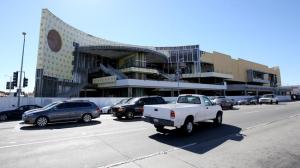 On a 13-0 vote, the council revised the planning and zoning rules that govern the Sunset Boulevard site, ensuring that Target's 74-foot-tall retail center would be permitted on the property.
Superior Court Judge Richard L. Fruin Jr. struck down the council's approval of the project in 2014, leaving the three-story structure an empty and partly finished husk. In his decision, Fruin said the council had failed to show Target would suffer an "unnecessary hardship" if it was forced to comply with the city's height rules, which limited shopping centers to no more than 35 feet at that location.
Councilman Mitch O'Farrell, who represents part of Hollywood, welcomed Wednesday's vote, saying construction should resume within weeks. But foes of the project, who have been challenging the development since 2008, said they will file another lawsuit — this time arguing that an environmental impact report should have been prepared on the changes to city planning rules.
Click here to read the full story on LATimes.com.