This is an archived article and the information in the article may be outdated. Please look at the time stamp on the story to see when it was last updated.
The Los Angeles City Council voted Wednesday to eliminate Columbus Day from the city calendar, siding with activists who viewed the explorer as a symbol of genocide for native peoples.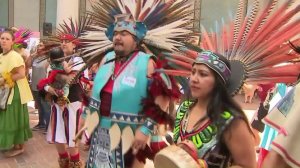 Over the objections of Italian American civic groups, the council made the second Monday in October a day in L.A. to commemorate "indigenous, aboriginal and native people." The day will remain a paid holiday for city employees.
Appearing before city lawmakers, Italian Americans voiced anguish over the proposal, saying it would erase part of their heritage. Some said they supported Indigenous Peoples Day but wanted it to be held at a different time.
"On behalf of the Italian community, we want to celebrate with you," said Ann Potenza, president of Federated Italo-Americans of Southern California, speaking in a room packed with Native American activists. "We just don't want it to be at the expense of Columbus Day."
Read the full story on LATimes.com.
LA City Council voted to replace Columbus Day with #IndigenousPeoplesDay !!!!! #justice pic.twitter.com/EPch06YqE2

— Andy Shrader (@AndyShrader) August 30, 2017