This is an archived article and the information in the article may be outdated. Please look at the time stamp on the story to see when it was last updated.
The woman who has accused Los Angeles City Councilman Jose Huizar of sexual harassment filed a second lawsuit Tuesday, claiming that city officials are attempting to intimidate her by forcing her to testify a day before she is due to give birth.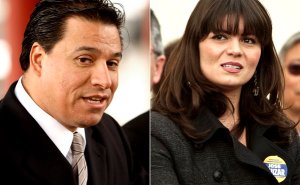 Former Huizar aide Francine Godoy's lawsuit asks a judge to block the city's attempt to compel her to speak to an investigator representing the city Wednesday, one day before the suit says she is scheduled to have a caesarean section.
Godoy claims that the subpoena issued to her last week is designed to preempt the proper questioning she would undergo in her lawsuit against Huizar, her onetime boss at City Hall. She has accused Huizar of waging a campaign of retaliation and harassment against her. She alleged that Huizar torpedoed her effort to run for a seat on the Los Angeles Community College District board after she refused to provide "sexual favors."
Huizar, who is running for a third four-year term, has called Godoy's allegations false and malicious. The married father of four said that he had an extramarital affair with Godoy that he now regrets.
Click here to read the full story story on LATimes.com.