This is an archived article and the information in the article may be outdated. Please look at the time stamp on the story to see when it was last updated.
A lieutenant with the Los Angeles County coroner's office was arrested Thursday after being accused of sending explicit photos and sexually assaulting a coworker last year.
Lt. Ryan Hays, 46, was charged with nine misdemeanor counts, including indecent exposure, sexual battery and lewd conduct in public, for crimes that occurred between Jan. 4 and April 3 of 2015, according to the complaint filed by the Los Angles City Attorney's Office.
Hays, whose LinkedIn page states he has worked at the coroner's office since 2006, turned himself in and was arrested Thursday.
Hays allegedly sent sexually explicit videos of himself to a female coworker, groped her and exposed himself to her.
Six counts related to harassing phone calls were for crimes that allegedly occurred within a four-day period in late March and early April. The other, more serious charges were for incidents on Jan. 4, 2015, according to the complaint.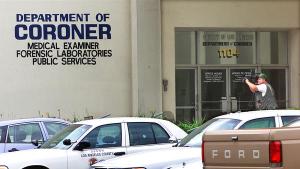 A source in the coroner's office said Hays had been placed on paid administrative leave.
The coroner's office declined to officially comment on Hays' arrest due to the ongoing investigation.
There was no answer at Hays' Brea home.