This is an archived article and the information in the article may be outdated. Please look at the time stamp on the story to see when it was last updated.
Los Angeles County supervisors voted Tuesday to proclaim a local emergency for northern county areas damaged by last week's severe storms.
Such a declaration is a first step for getting state and federal aid, and lets local governments more quickly issue contracts for cleanup activities.
The Antelope Valley communities of Quartz Hill, Leona Valley, Lake Hughes and Lake Elizabeth and surrounding areas were struck Thursday by severe thunderstorms that resulted in flash floods and mudslides, inundating roads, trapping drivers and forcing the closure of nearly 40 miles of Interstate 5.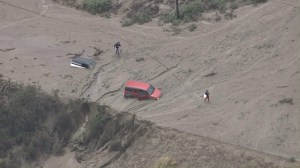 The damaged facilities included a county juvenile probation camp in Lake Hughes, where buildings were inundated with mud and debris. The youths were moved to another facility. Dave Chittenden, chief deputy director of the county's internal services department, said cleanup is expected to take 30 days.
Click here to read the full story at LATimes.com.