This is an archived article and the information in the article may be outdated. Please look at the time stamp on the story to see when it was last updated.
Health officials issued a heat alert for Los Angeles County's inland valleys Monday, warning that a multiday heat wave expected for Southern California this week will put the community's most vulnerable residents at risk.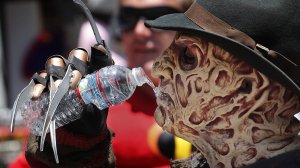 While temperatures aren't expected to be quite as blistering as they were during a heat wave that shattered records two weekends ago, the one expected this week will last longer and reach from the San Gabriel Valley and high desert to the coast, the National Weather Service said.
"It's not going to cool off at night. Just 96 hours of hot temperatures," warned meteorologist Andrew Rorke. "If you can survive to the weekend you might get a little relief."
Monday could be up to 8 degrees warmer than it was Sunday, Rorke said. It's expected to be 92 degrees in downtown Los Angeles and 105 degrees in Woodland Hills. The heat wave will peak Tuesday and Wednesday when temperatures will hit 94 each day downtown and 107 in Woodland Hills, respectively, Rorke said.
#LAHeat ☀️ is here — with high temperatures 🌡️ expected through Thursday. If you need somewhere to cool off, our @LAPublicLibrary, @LACityParks Rec Centers and other City facilities are open to serve you. Find cooling center locations and hours: https://t.co/RulVSqtAQP pic.twitter.com/gRyoEMnuG2

— Mayor Eric Garcetti (@MayorOfLA) July 23, 2018
#LAheat alert for in effect for the following areas today (7/23) through tomorrow (7/24):
• Antelope Valley
• Santa Clarita Valley
• San Fernando Valley
• San Gabriel Valley
• Pomona area
For resources and tips, visit https://t.co/lgDkxJZ9FZ. pic.twitter.com/J8jfprlDpy

— Los Angeles County (@CountyofLA) July 23, 2018
According to the NWS we can expect excessive heat inland today through Wednesday.

✅ Don't leave kids, vulnerable adults, or pets in hot 🚙.

✅ Check on the elderly if they don't have AC.

✅ Don't 🏊‍♀️ alone. Keep 👀 on the water & area around it if people are 🏊‍♂️. pic.twitter.com/AA7eBHLRoZ

— Thanh Nguyen (@PIOthanhn) July 23, 2018
Read the full story on LATimes.com.